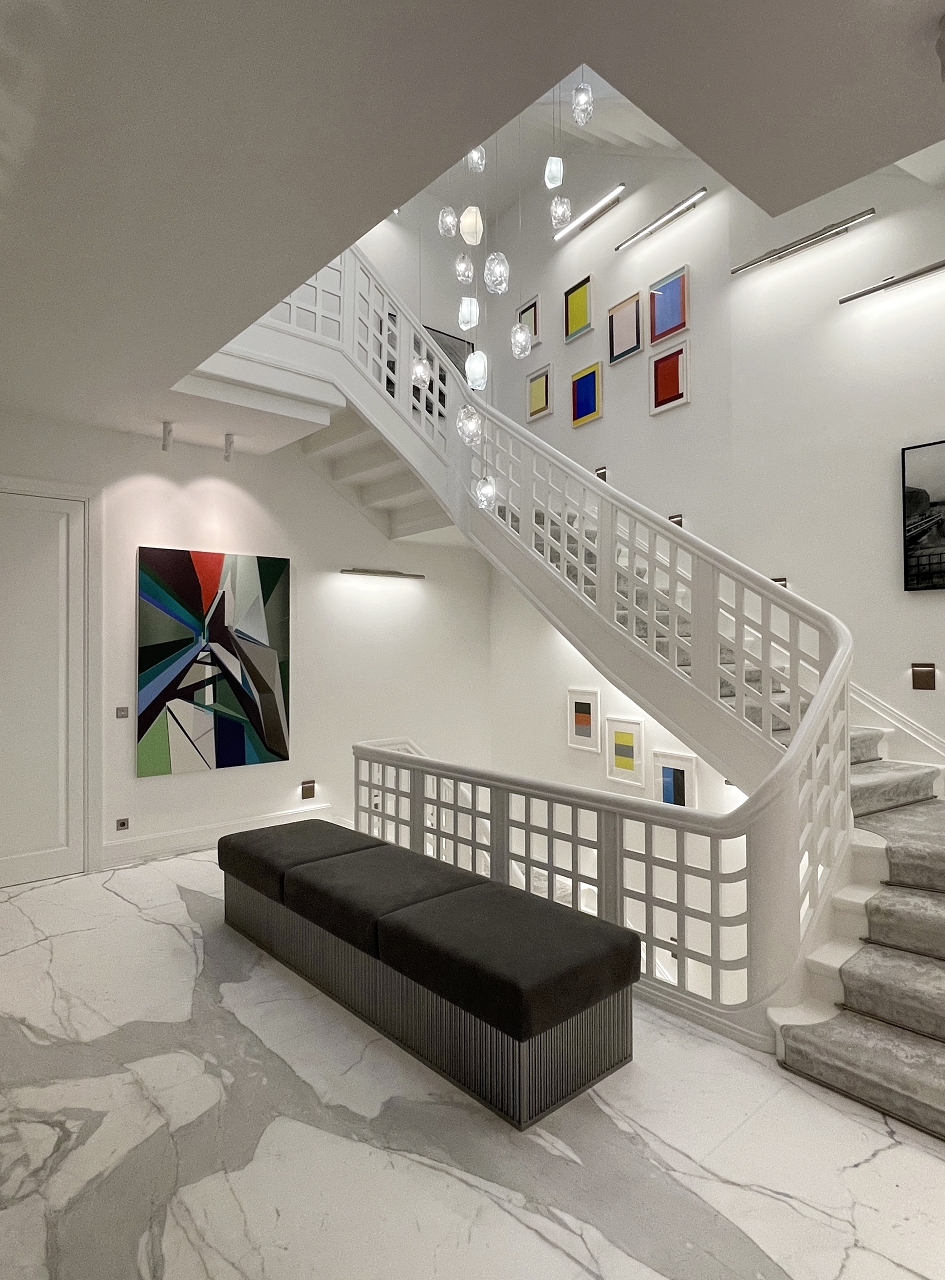 Magnificent design in the villa at the castle
The exclusive location of the villa at the castle already promises a royal flair. After a relaunch, the interior of the residence, which was built in 1915, shines in new glamour and spreads exclusivity and luxury.

Elegant marble provides highlights

Spacious and featured in a modern bright design with numerous art works, the staircase alone is impressive. A selected light installation across all floors creates an elegant atmosphere. The white Statuario marble, which decorates the entire floor area in a polished version, is also noble. With its white basic tone, a light to dark veining, it is excellently suited for bookmatching and is often used in splendid interior design. Using a photo-realistic illustration, the entire area could be visually presented to the customer even before the production began. For a unique effect, the bookmatches are exactly parallel.

Space for life

Different materials, such as rolled stainless steel and a playful modern chandelier, stage a unity in the spacious eat-in kitchen despite their diversity. The large dining table made of Dedalus quartzite is an eye-catcher. With its green colouring, it surprises with its provocative beauty of strong beige to black shades. Here, nature is never short of creativity and provides a feeling of depth and closeness to nature. With a length of 2.20 m, it creates enough space for a relaxed coming together.

Royal travertine creates wellness atmosphere

Santa Caterina is a light-coloured travertine and conjures up a feel-good atmosphere with its beige to grey nuances. In its classically elegant design, it covers the floor and wall surfaces in the wellness area and in a bathroom in a brushed finish and laid in large formats. A special highlight is the reclining shower.

For the redesign of this unique project, we installed more than 217 m² of natural stone and mosaic. The design concept was created by Studio ASH - Interior & Lighting Design in Cologne. The royal design includes 7 natural stones and mosaics that were selected in Italy during personal stone journeys with KMD's project team.



Picture: Studio ASH - Interior & Lighting Design