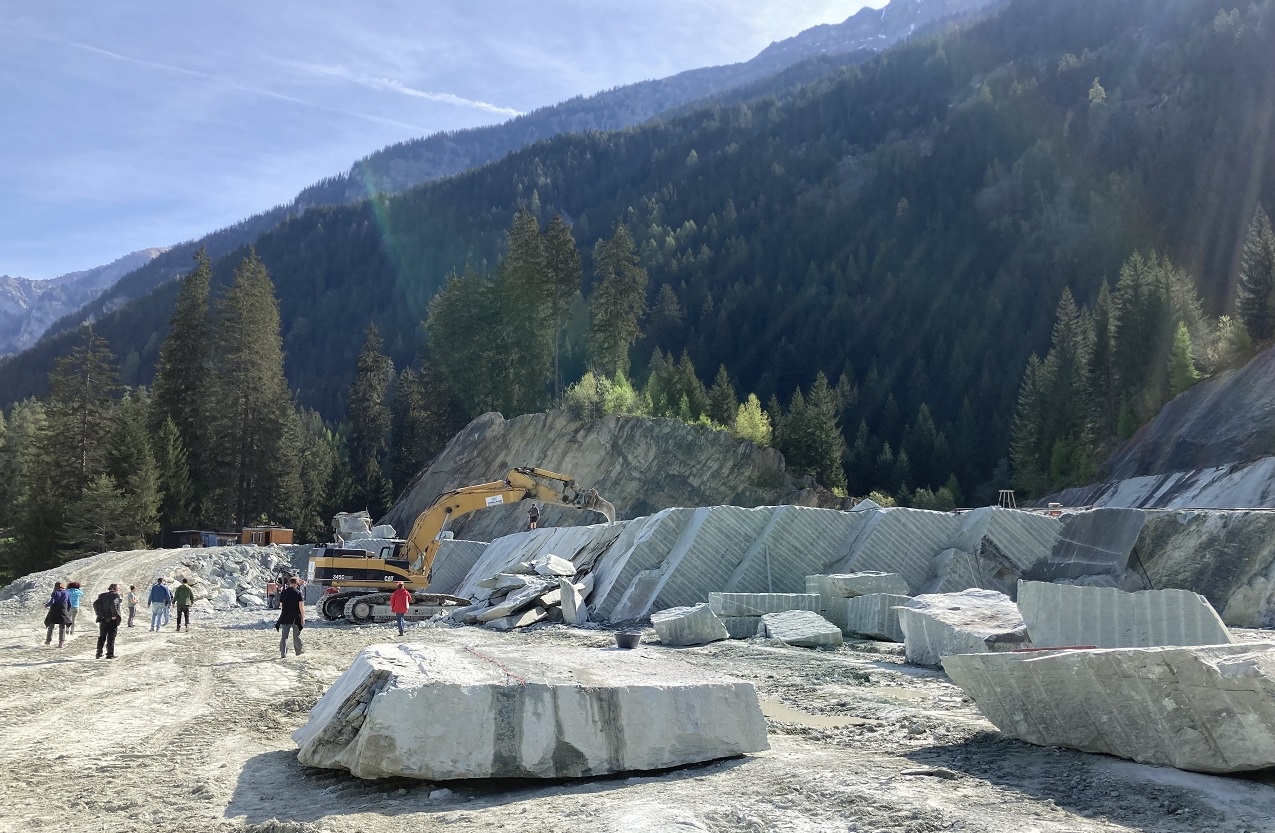 Green and sustainable: the incredible diversity of natural stone sources in the Vierländereck!
Only a few materials are both visually stunning and at the same time diverse in use as natural stone. Furthermore it is climate-neutral and eco-friendly sustainable. Designers and architects like to choose natural stone from local quarries for the realisation of their projects. Especially when considering rising freight costs and disruptions in global supply chains.

This natural building material has been experiencing a renaissance for years with the "sustainability" megatrend.

"You have to travel to learn." - Mark Twain

In a stone journey through the incredible variety of natural stones in the Vierländereck (four-country corner), we increased our knowledge about the extraction and processing of the different types of stone. The starting point of the natural stone excursion was the beautiful city Freiburg im Breisgau (Germany). In an exciting journey through time, we were able to experience the long life of the natural stones used centuries ago during a historical city tour.

After the fascinating footprints of the past, the professional journey went to Lichtenstein, the Swiss Canton of Ticino and Austria. The focus was on visiting stone quarries, getting to know possibilities for processing different types of stone and technical parameters regarding their use, as well as networking with new contacts.

Exciting atmospheres could be experienced in the quarries on site during the quarrying of various gneisses. Blocks of 25 tons of rock mass moved up to 25 cm due to the explosive force. The blast echoed through the mountains for almost 15 seconds and created a breathtaking soundscape.

The green granite from Switzerland

Especially the visit to the Andeer quarry in Switzerland was impressive. The stylish Andeer orthogneiss is also known under the trade names Andeer Granite, Verde Andeer or Rofna Porphyry. It is one of the world's unique and most exclusive building materials for interior and exterior architecture.

Characteristic of Andeer is its pistachio green colouring. The granite gets its unique nuances from its mineral composition. Furthermore white inclusions of feldspar and the slaty structure give the characteristic granite an unmistakable appearance. Depending on the splitting, it can appear cloudy (cross cut) or in a striped structure (vein cut).

Andeer granite is tough

In addition to its striking appearance, the Andeer impresses with its characteristics. For example, it is very resistant to weather influences and is extremely abrasion resistance. Thanks to its chemical features, it is perfectly suited for the construction of swimming pools. Visually interesting, this granite is a real application wonder!

Building with home for eternity

The extraction and processing of regional natural stone has shaped building and cultural landscapes over the ages. The trend towards durability makes natural stone, with its incredible range of colours, structures and physical characteristics, a popular raw material. The fascinating Vierländereck natural stone excursion ended with a lot of new knowledge and enthusiasm to use it in current and upcoming projects.