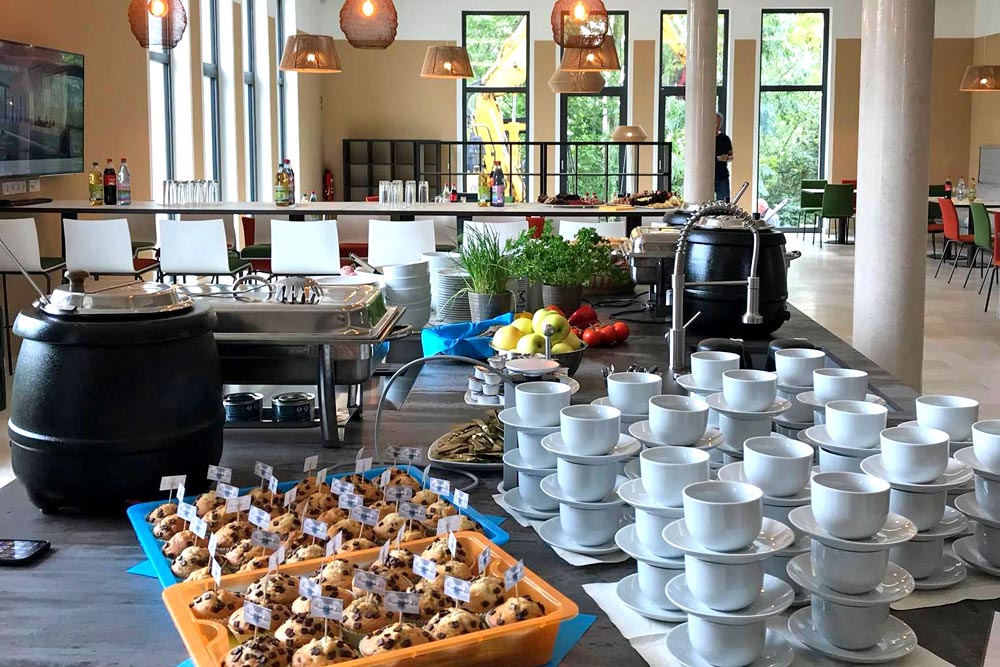 New centrepiece from KMD: Staff cafeteria in the office building complete
On 10 September 2018, KMD's new office building in the "Gotha Südstraße 15" industrial park was officially opened. Its centrepiece is the large staff cafeteria, which has room for 70 people. Due to the huge growth of the company and its staff over recent years, the need for a new office and larger rest area grew ever greater – the space was just not big enough anymore. The company invested around 100,000 euros in the interior design of the cafeteria.

The staff cafeteria carries the signature of the company founders Wiebke Mohr, herself an architect, and Thomas Dietz. However, a specially created working group made up of staff from production and administration played an important role in its design and future use. The new rest area with floor-to-ceiling windows is bright and welcoming. The various different seating areas form an inviting space to sit and linger. The central meeting point of the working kitchen is the large cooking island complete with modern appliances where you can warm up your own food or prepare yourself something fresh. Or perhaps even cook something together with your team at the end of the working day!

"It is a room where you can feel at home and switch off, but also a space for meeting people," said company owner Thomas Dietz, who stresses that his company lives and breathes the culture of mutual appreciation and participation, as well as collaboration based on partnership. The new cafeteria will mainly be used by staff as a retreat in the breaks. It also provides plenty of room and is a lovely space for team meetings or appointments with customers or suppliers.

The room is 3.5 metres high and is fitted out with indirect lighting and an integrated sound system, as well as sound insulation, which makes a positive impact on the room's acoustics. The beige limestone floor produced in-house, and the bright and colourful design and furniture contribute to the pleasant atmosphere. The new building has added on an extra 500 square metres of useable area. Over the coming days, the HR and accounting, purchasing and sales departments will move into the new offices and will make space in the main building for the rapidly increasing construction and project management departments.

From now on, KMD will operate out of three modern administration buildings, two production halls and one modern warehouse. In total, the company has around 6,000 square metres of production and warehouse space and around 1,500 square metres of office and recreational space. Outside, there are plenty of car parking spaces for employees and customers, and a garden-like outdoor area can also be used in the breaks. The developer, LEG Thüringen, has been developing and marketing "Gotha-Südstraße 15" industrial park since 1999.