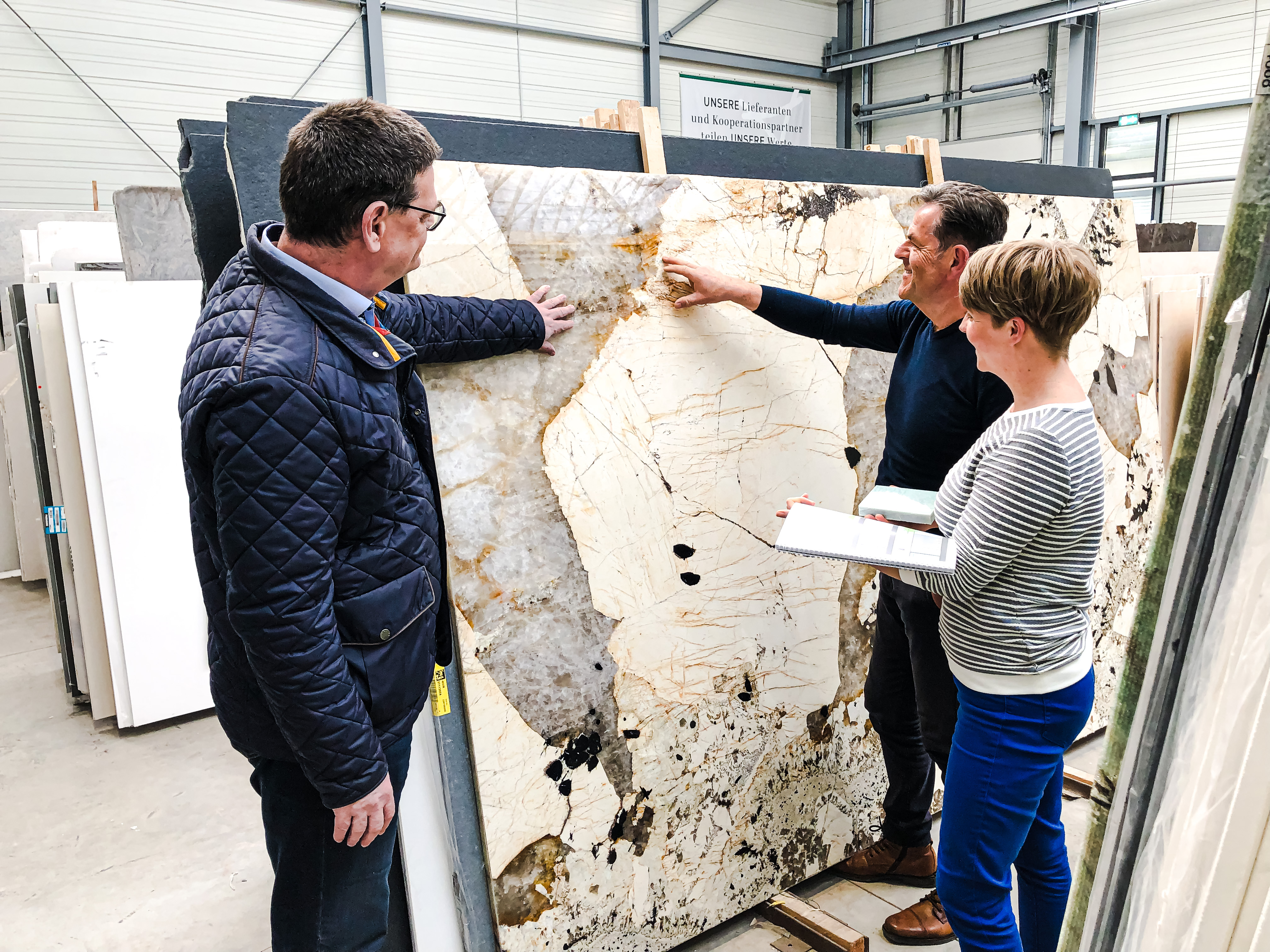 Fascination natural stone
Shaped by nature, every natural stone tells its own story. Dark inclusions in the granite tell of the melting of the rock into the liquid magma. Fossilisations in limestone describe long-extinct animals and the layering of sandstone illustrates the deposition of sediments in seas, river deltas and large water basins. Natural stone is a material that has grown over millions of years. A sustainable treasure of the earth. No energy is required for its own production and nothing is lost to nature in the entire cycle of extraction, processing and recycling. As a natural building material, it does not contain any harmful substances.

Unlimited design possibilities

No building material reveals as many different colours and structures as a natural stone. Different surface finishes make this diversity almost unlimited. While a polish gives a noble and elegant ambience, the same natural stone with a rough surface shows strength and power. Almost any desired ambience and design can be realised. Nevertheless, the technical physical characteristics of the natural stone have to be taken into account. "We have to sense the customer's idea already in this early design phase. With our knowledge and years of experience we have to advise for the stone usability in every project and for the individual colouring", says Matthias Platz, who is supporting our customers as an expert for natural stone for more than 15 years. "In-depth discussions and the exact identification of requirements are the basis for the implementation of the unique projects," he tells us. For example, quartzite, granite or basalt are often recommended for permanent wet areas (wellness, bathroom, pool). In addition, sandblasted or brushed surfaces are preferred due to their slip resistance. We use our material library and our sample warehouse for a comprehensive material selection. Thus, the favoured stone can be touched and visually experienced for the first time.

Stone journey as an emotional natural stone selection

Once the stones have been selected out of visuals and samples, we can select unique raw slabs in a stone journey with the designer or customer. However, the variety is almost unlimited and the picture and the sample do not always transmit the unique impression of a natural stone. Often the perfect stone to the design concept can be selected on site where the magic and the charisma of the exclusive material can be experienced as the influence of light, the own visual inspection and feeling of the natural stone have more impact than a picture.

Trends in natural stone

Designs and demands are often subject to long- and short-termed trends. A growing trend that will continue to prevail in the coming years are haptic surfaces such as honed, brushed or embossed. They convince with their scratch resistance and they show dynamic and energy. Earthy tones, beige and grey remain present in the colour tones and are often combined with an eye-catcher. The sustainable natural stone impresses with its unlimited variety and thus unfolds a timeless fascination. Passion for Stones!