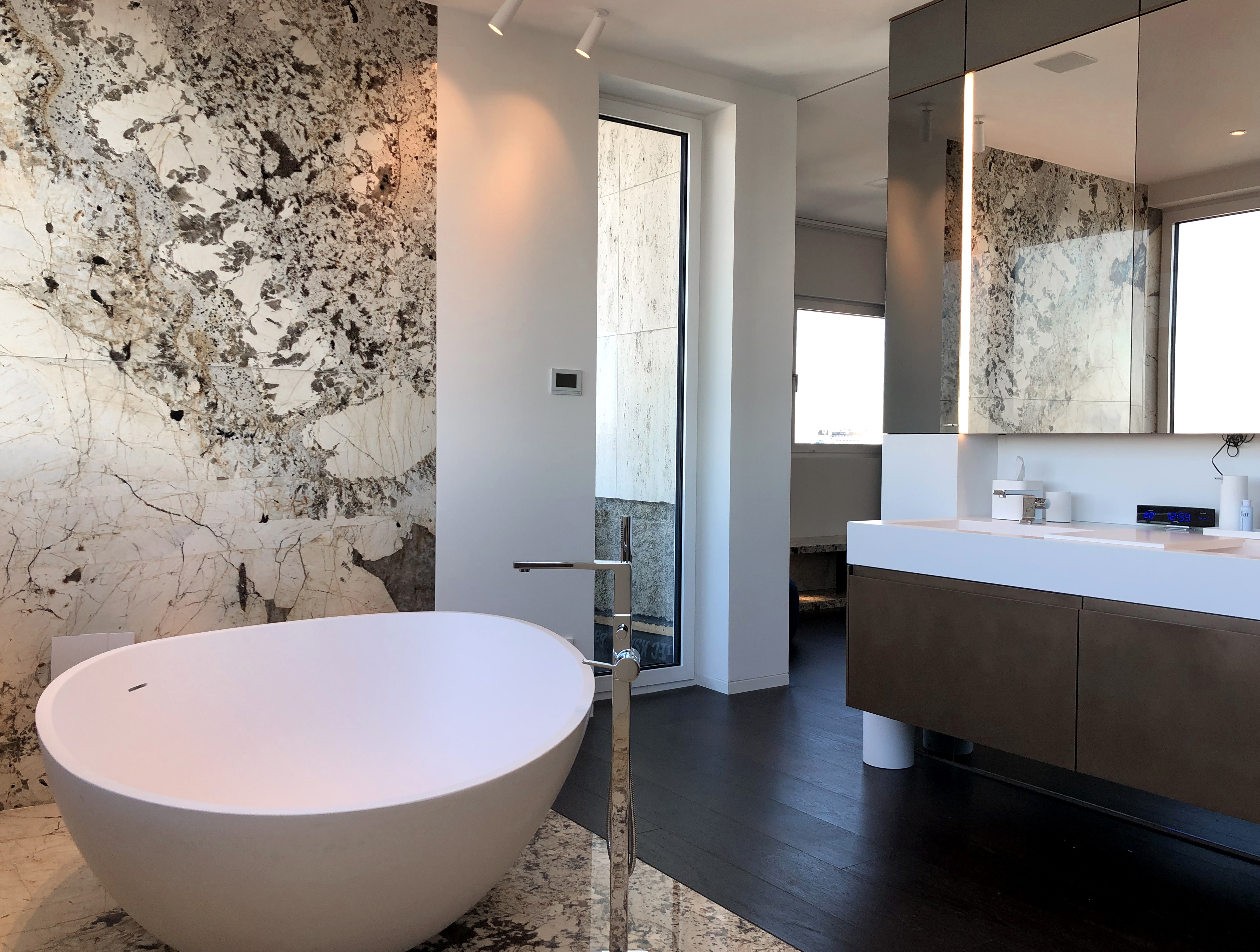 above the clouds of Cologne
A penthouse apartment offers pure superlatives above the rooftops and "clouds" of a metropolis. It combines life in a busy city and the relaxing from everyday life in lofty heights. Privacy can be enjoyed despite a central location - including a view of the starry sky!

Sustainability meets eye-catcher

The newly designed penthouse in Cologne impresses with its exclusive design concept based on the complementary themes of sustainability and eye-catching. Dietfurter Kalkstein (limestone) adorns the entire floor of the living area, the corridors and the balcony. Quarried in Germany, the limestone is a true sustainable wonder. In a brushed finish and laid in large formats, it highlights the open and friendly atmosphere with its light colour scheme. As a complementary eye-catcher, the elegant quartzite Patagonia captivates with rare beauty and incredible resistance. In the shower as flooring and wall covering, it fascinates with its crystalline areas and transforms every use into a visual experience. The dining table in the light-filled area also reflects the adventure of the Patagonia. Rays of sunlight illuminate the large tabletop in a polished finish, emphasizing the exclusive aura of the penthouse.

In contrast, the dark L-shaped bar counter and kitchen block made of the magmatite Meteorus appears almost plain. But its history alone, created by the solidification of a molten rock due to cooling, is inspiring and leaves room for fantasies about thousands of years of its genesis.

For colder days, the fireplace made of Theumaer Fruchtschiefer (slate) provides relaxation and comfort. Its appearance with the blue-grey colour, silvery shine and black inclusions makes this German natural stone unique in the world. In addition to the Dietfurter Kalkstein, it underscores the sustainability of the design concept.

The guest area was made of the exclusive Valser Quartzite, whose quartz inclusions give it the glittering effect. Depending on the incidence of light, it impresses with different grey tones that also show a green shimmer and create a special atmosphere.

Modern character in open architecture

More than 220 m² of natural stone was laid for the redesign of the penthouse. High above the clouds, the exclusive view and the incomparable look of the natural stone work enchants in every room. Sustainable living in a central light-flooded living atmosphere was thus created.