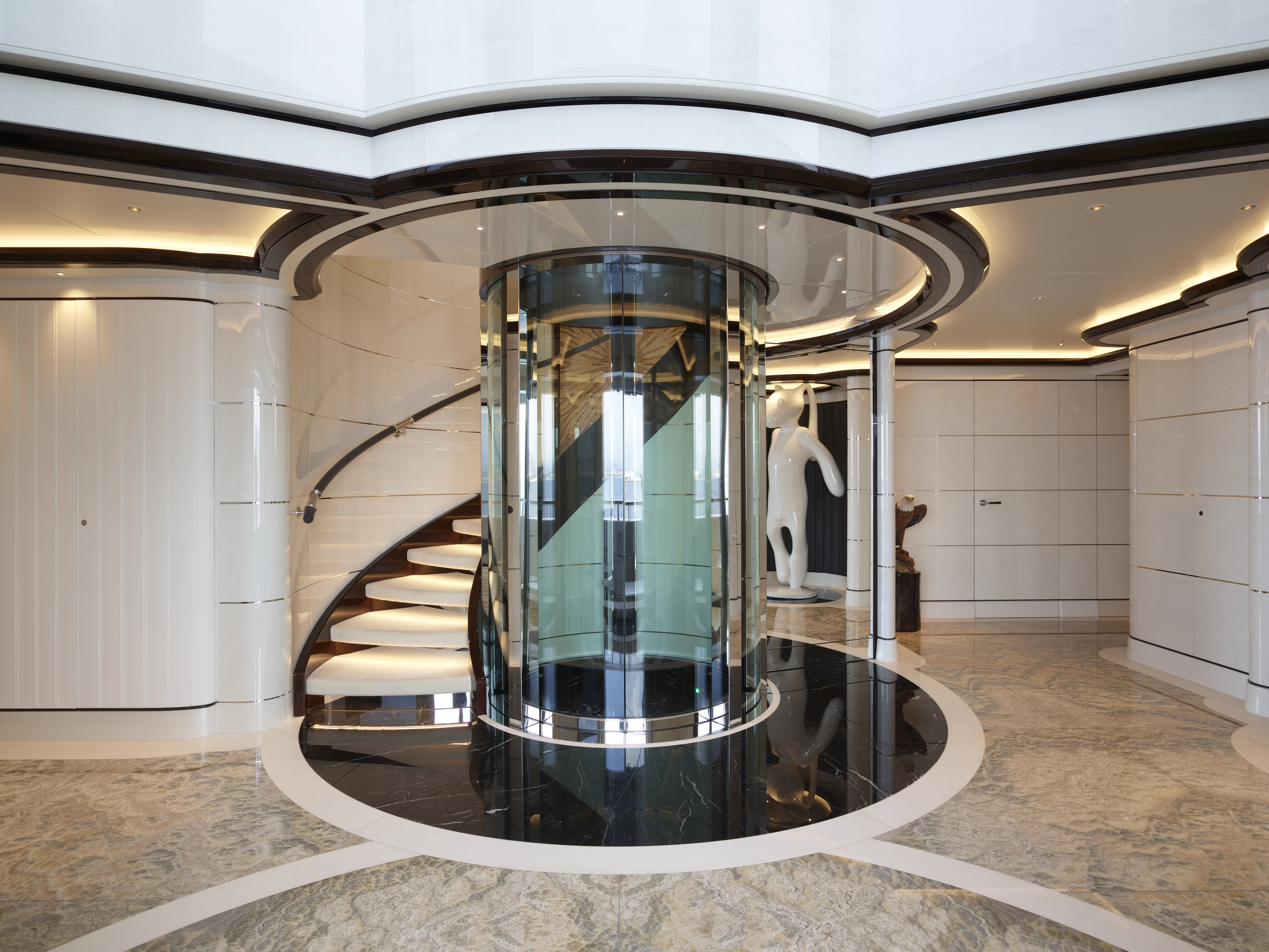 360° sea view - luxury yachts on the ocean
Luxury yachts sail around the world's oceans. On board are discerning guests who enjoy time with family and friends in a pleasant atmosphere. Luxury yachts offer the condition for this through their unique design, high quality and comfort for exclusive demands at sea.


The EXCELLENCE meets these high expectations. Launched in 2019 by Abeking & Rasmussen, she is a masterpiece in futuristic design. Her iconic profile creates a unique shape. The inverted bow and sharp lines that merge the hull with the superstructure have created her extravagant look. With a length of 75m, the Excellence offers every kind of comfort in the interior. KMD oversaw the entire fit-out of the 36 rooms with a total of 32 different natural stone materials. The focal point of the design concept is a beige limestone, which was combined in all areas with differently grained accent materials in a variety of colours. Elaborate detail solutions round off the uniqueness in design and execution.


The Staircase Lobby on the Main Deck is impressive. Starting point of the 8m high atrium, which connects all Staircase Lobbies and provides a penetration of natural light. The beige Limestone forms the basis of the design here. A Nero Marquina underlines the noble and luxurious appearance. The highlight is the Grey Onyx. When mirrored, it is a fascinating floor covering.


The Bathrooms in the Owners Deck have been given a regal design with a beautiful Gold Onyx. This impressive natural stone makes the area look very noble. The Gold Onyx was mirrored on the wall and floor surfaces. In addition, the door reveals, friezes and skirting have a flowery effect due to a special cutting process of the natural stone. The overall design is reminiscent of an amber room and lends the bathrooms a regal ambience.


The Excellence impresses in every room with breath taking combinations of materials and details in the finish. In all guest bathrooms, natural stone on walls and floors forms the basis of the unique design concept. Highlights and contrasts on washbasins, backsplashs, mirror surrounds, skirting as well as ceiling and floor friezes are created by stunning natural stones such as White Onyx Gold Vein, Nero Portoro, Emperador Grey and Silver Wave.


The Excellence therefore offers limitless pleasure at sea in many respects.



Foto:
Interieur: Winch Media
Exterieur: Tom van Oossanen